As most of you will know for the last 10 plus weeks we have been attempting to buy a bungalow. Yes, I say attempting! We have had a real battle on our hands and have got nowhere fast. We have been on the phone most days to the estate agent but with no luck at all. When eviction orders were mentioned by an ex partner of the lady living there we decided that we really didn't want to get involved and although we have invested a lot into the property [in time, emotions and money!] we decided to cut our losses and move on.
Our buyers for here are a really lovely young couple with two small children and they have already moved out, put their stuff into store and are now living with family so we felt we had to look again for another new bungalow so that we didn't keep them waiting any longer....thanks to them for being so patient. :-)
We have spent the last week searching for another property and have found another bungalow not too far from the last one. It's still on the outskirts of Shrewsbury, the right side of the town for my hubby's work and is close to our wonderful family. We went for a first viewing last Wednesday and fell in love with it. We put an offer in that was accepted on Friday morning and have been back with several of our family members this morning to measure up. The bungalow is empty and the seller, like us, is keen for a quick sale so hopefully we will be on the move very soon.
So here it is folks...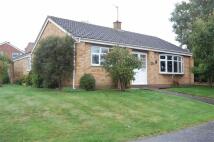 It has two large bedrooms, one with en suite, a large dining room that yours truly will be using as her sewing room :-) :-) :-) and it is carpeted throughout making it really warm and cosy. We have all felt very at home there. It will need a new kitchen and probably a new heating boiler but that's a fraction of the work the other bungalow needed and all very doable......in fact it will be really lovely to put our mark on our new home :-)